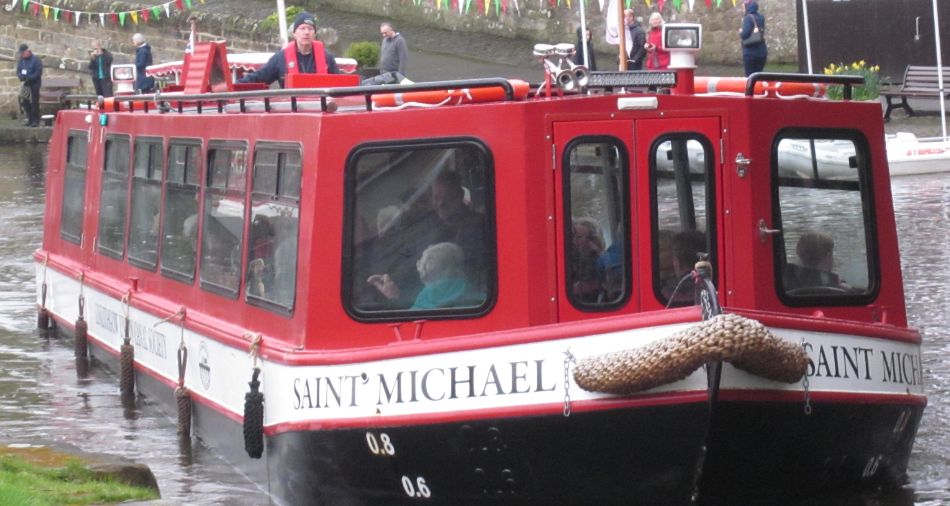 Enjoy a 2½ hour cruise aboard one of our 40 seater boats ( Saint Magdalene or Saint Michael) from the canal basin in Linlithgow to the Avon Aqueduct, which carries the Union Canal over the River Avon.  The Avon Aqueduct is the longest and tallest in Scotland and the second longest in Britain, after the Pontcysyllte Aqueduct in Wales.
Points of interest along the way are described in the Aqueduct Guide which is provided for your use during your trip.
The cruise departs at 2 pm, returning about 4.30 pm, on Saturdays and Sundays between Saturday 29th May till 26th September 2021.
There are no weekday Aqueduct Cruises.
Prices:
Prices: £15 for a table of up to four people. Tables may only be booked by individuals or those who are allowed to socialise indoors in accordance with applicable government Covid guidance
Please use the LUCS Booking System  to make your reservation.
Covid precautions
One-metre social distancing and mask wearing is required on board except when seated at tables
Unfortunately, LUCS is unable to offer catering whilst Covid-19 restrictions are in force.
When arriving at the basin, please board the boat as soon as possible after your arrival.
Due to Covid restrictions, LUCS is currently unable to offer boarding assistance for mobility impaired passengers. If such assistance is required passengers are requested to ask someone in their bubble.
To ensure ventilation the windows and front door on the boat will be open. If it is a cold day, please dress accordingly
Information about this Cruise is contained in the Aqueduct Cruise Guide.
Gift Vouchers:  If you are thinking of a novel present for Christmas, a birthday, an anniversary or any other occasion, LUCS can provide gift vouchers for Aqueduct Cruises and Town Trips.  The gift voucher can also be used for the hire of Victoria or St Magdalene with a driver and crew and the hire of the self-drive boat, Leamington. To make an enquiry please contact LUCS at – bookings@lucs.org.uk.